Surfteam Aloha - 06 / Mar / 2022
Tips & Tricks for your favorite suit in the closet, your wetsuit! Maintenance and more.
Tips & tricks for taking care of your wetsuit and what you can do about smelly wetsuits, wetsuit booties and wetsuit gloves.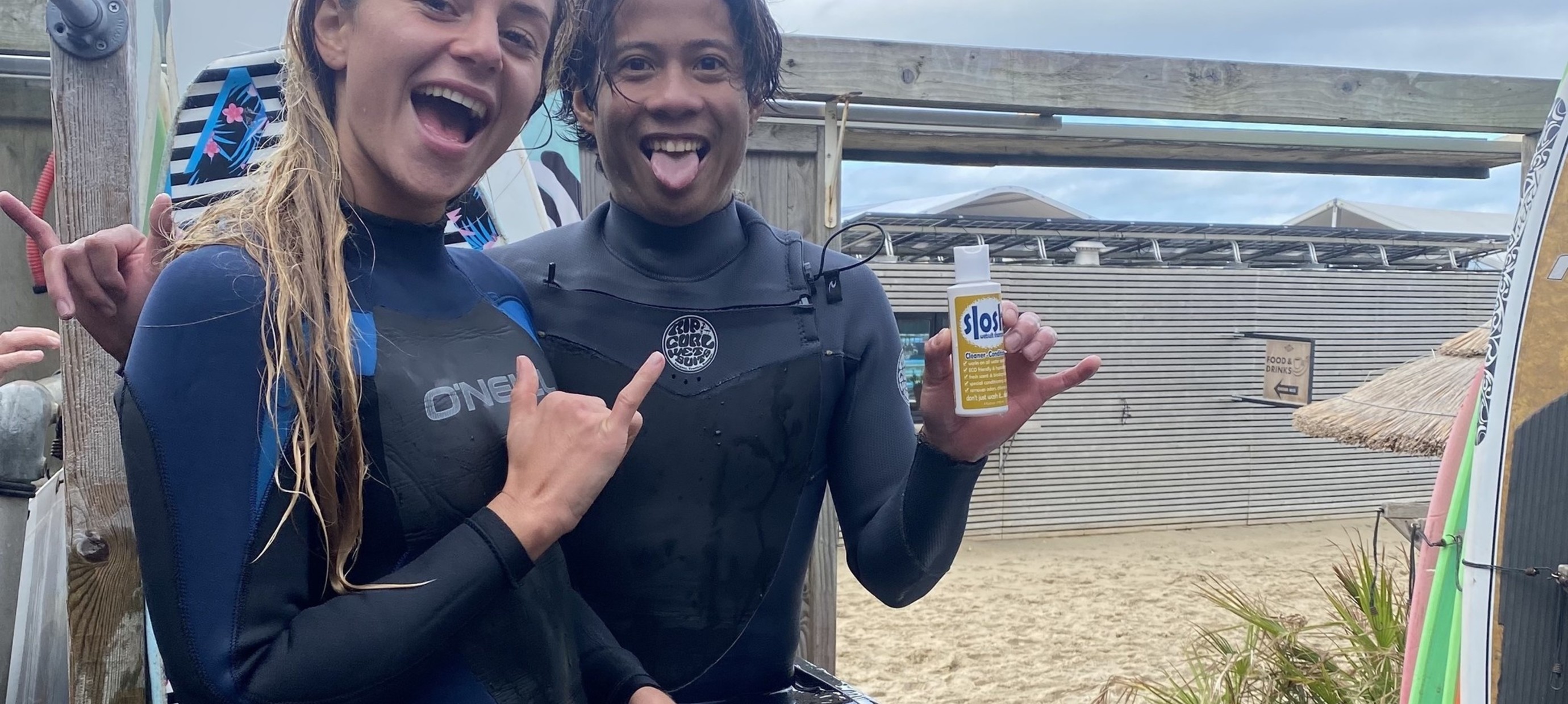 Of all your surf gear, your wetsuit is the most important, even more important than your surfboard. If your wetsuit is not completely comfortable, is too cold or too warm, the seams are tearing or has too little flex, this will ensure that your surfing pleasure flows away slowly or that you even leave the water earlier. In this blog we give tips and tricks from the pros who surf or stand in the water day in and day out to give surf lessons. First we explain how to handle your wetsuit, then what to do against unpleasant odors in your wetsuit and accessories.
How do you maintain your wetsuit and extend its lifespan drastically?
There are a few points to keep in mind when using your wetsuit. Wetsuits become more flexible every year and therefore get better and better, but there are a few things that they can't handle very well. Wetsuits cannot withstand sun, sand, hot and salt water, this is very handy, we know.
It is important to rinse your wetsuit with cold and fresh water after every session, for example in the shower. If you do this under nice warm shower water because you are cold, this will cause the seams to loosen faster, so make sure you do this with cold water.
After rinsing, hang it in the shade with the legs on one side of the hanger and the sleeves on the other. Do not hang your wetsuit by the shoulders, because the wetsuit is still completely wet and heavier, it will stretch in length. Never hang your wetsuit in the sun to dry, as this prevents the seams from drying out.
If you are extremely lucky and live within cycling distance of the beach, always make sure that you are not sitting directly on your saddle with your wetsuit. This is because your bicycle saddle creates a lot of friction with the wetsuit, which will eventually cause your wetsuit to lose neoprene in this place or even to tear completely. You have no guarantee on this from the supplier, because wetsuits are not made for cycling. Of course this is not the most 'chill' place to have a hole in your wetsuit and you want to avoid this at all costs!
You can easily prevent this by putting a plastic bag over your saddle. If you have forgotten your shopping bag while shopping, take a plastic bag from the supermarket with you and then tie it over your saddle.
Save the planet, and your ass
Nasty wetsuit smells
Everyone knows the feeling: you've been in the water for more than two hours, the waves are firing and you have the session of your life. You don't want to get out yet, but you still need to go to the toilet.. You paddle back to the line up after your last wave, slowly slide off your board until you lean very casually with two arms on your board and your legs are nicely dangling down. You casually chat with your surf buddy who sits next to you and let it go quietly. What a relief, you just throw a splash of seawater into your wetsuit to rinse it away and you can surf again.
All good for now. You get out of the water, very stoked. Take off your suit as a real surfer boy / girl and walk to your surf crush on the beach. While you gather your courage and walk towards your crush, you smell a bit of a strange odor coming from your suit and you walk around your crush with a big bow.
Missed opportunity!! Could you (literally) have boasted in scents and colors that you took the wave of your life, but you have been dripped off by your own wetsuit stench.
The days are getting colder and soon you will need booties and gloves in the water again. After a few good surf sessions with fresh booties you notice that they start to smell a bit like a wet dog. Very annoying of course. Your partner / roommate or parents force you to put them outside because they smell so badly and you never have dry booties.
We have an easy and cheap solution for these problems. The Slosh Organic Wetsuit Shampoo costs a tenner, and saves you a lot of nasty odors.
Take a large bucket / tub or, if necessary, your bath, put some lukewarm water in it and add a dash of Slosh. Add your neoprene and let it soak for 15 minutes, then take it out and rinse with water. The more your neoprene stinks the more Slosh you throw in.
Slosh is completely biodegradable, eco-friendly and hypoallergenic!
That's it folks!
Shred on and stay stoked,
Surf team Aloha.